Holidays in Moscow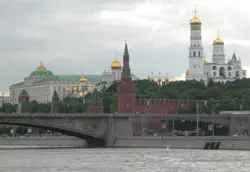 You want to take some days of discovering Moscow? If you come to Moscow for the first time, you can not do without getting acquainted with the historical center of Moscow. A walk on Red Square and the Kremlin territory, visit the Temple of Christ the Savior, a viewing platform at Sparrow mountains, the Novodevichy monastery acquaint you with the history of this wonderful city.
Would you like to spend time with the benefit of the mind? Reaching all the attractions of Moscow is not possible: in Moscowyou will find some 100 museums and exhibition complexes (world-renowned museums: the Tretyakov Gallery, the Museum of Fine Arts. Pushkin State Museum of History and others), more than 100 theaters (the most prominent: Bolshoi, Maly Drama Theater, Taganka). Most museums and theaters can be found on our web site.
Would you like to have a rest from the city? In Moscow you will find about 50 parks and gardens. Solitary walks in the garden Neskuchnom, majestic beauty of the Novodevichy monastery, romantic alleys and bridges of Architecture and park ensemble Caricino, museum wildlife in the botanical garden - any of the smaller travel will leave the best impression.
It is nothing comparable with night walks around Moscow. In the light of lamps the building of Moscow State University recalls a medieval castle, numerous bridges on the Moscow River embankment similar to the huge ships, and the dome of temples and churches as far away mayachki, call for new discoveries. Take the the walk along with us!